Welcome to the Wiki
Edit
The Young ones wiki is a wiki about not just the classic 80's sitcom The young ones but also other sitcoms such as Filthy Rich and Catflap and Bottom starring Rik Mayall and Ade Edmondson. Anyone can contribute to this wiki.
About the wiki
Edit
This is a wiki made to celebrate the works of one of the greatest comedy double acts of all time Rik Mayall and Adrian Edmondson. All fans of their are allowed to contribute.to this wiki which not only looks at the Young Ones but also their numerous other collaborations such as Bottom, Filthy Rich and Catflap, the Dangerous Borthers and episodes of the Comic Strip Presents.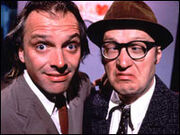 Ad blocker interference detected!
Wikia is a free-to-use site that makes money from advertising. We have a modified experience for viewers using ad blockers

Wikia is not accessible if you've made further modifications. Remove the custom ad blocker rule(s) and the page will load as expected.